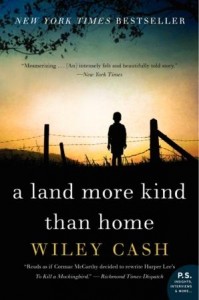 About the book:
A stunning debut reminiscent of the beloved novels of John Hart and Tom Franklin, A Land More Kind Than Home is a mesmerizing literary thriller about the bond between two brothers and the evil they face in a small western North Carolina town.

For a curious boy like Jess Hall, growing up in Marshall means trouble when your mother catches you spying on grown-ups. Adventurous and precocious, Jess is enormously protective of his older brother, Christopher, a mute whom everyone calls Stump. Though their mother has warned them not to snoop, Stump can't help sneaking a look at something he's not supposed to—an act that will have catastrophic repercussions, shattering both his world and Jess's. It's a wrenching event that thrusts Jess into an adulthood for which he's not prepared. While there is much about the world that still confuses him, he now knows that a new understanding can bring not only a growing danger and evil—but also the possibility of freedom and deliverance as well.

Told by three resonant and evocative characters—Jess; Adelaide Lyle, the town midwife and moral conscience; and Clem Barefield, a sheriff with his own painful past—A Land More Kind Than Home is a haunting tale of courage in the face of cruelty and the power of love to overcome the darkness that lives in us all. These are masterful portrayals, written with assurance and truth, and they show us the extraordinary promise of this remarkable first novel.
My Review:
I was so impressed with this book by Wiley Cash, it has a good plot, memorable characters, and it is beautifully written. The story is told by three characters- Adelaide, Jess, and Clem. All three are strong characters and I found myself drawn to the life stories of all three but it is Jess who I found myself thinking about the most. Cash does such a great job of bringing him to life and it was heartbreaking at times to read about all of the things that happen to him and his family.
The story line involving Pastor Chambliss and what went on in that church was difficult for me to read at times. I do not like snakes at all so I really did not enjoy reading about how they were used in that church. Chambliss was pure evil and Cash shows how dangerous he is by the way he threatens other characters in the book. The scenes between Chambliss and Adelaide were filled with tension. This book is a real page turner, I know I could not stop reading it. The ending was powerful and emotional and took me by surprise.
I would highly recommend this book, it is a thoughtful story about faith, family, heartbreak, and forgiveness. It is a book that I will continue to be thinking about for a long time.
My Rating: 5 stars out of 5
Top 10 Reasons Book Clubs Will Want to Read A Land More Kind Than Home
Reading Group Guide
Wiley's Website
Facebook Page
The rest of the tour can be found
here.