About the book:
A charming novel about a 40-year-old Brooklyn mother, recently divorced, who starts writing copy for a bakery, discovers a knack for food-related literary puns, and becomes entangled in a love triangle.
Molly Hagan is overwhelmed.
Her husband left her for a younger, blonder woman, her six year-old son is questioning her authority, and now, so is she. In order to pay her Brooklyn rent and keep her son supplied with Pokemon and Legos-not to mention food and clothing-she has to get a job. Fast.
So when an old friend offers Molly a copywriting position at a new bakery, finding romance is just about the last thing on her mind. But the sexy British pastry chef who's heading up the bakery has other thoughts. And so does Molly when she meets the chef's intimidating business partner-who also happens to have a secret that might prevent Molly from getting her own Happily Ever After.
My Review:
Wow- I loved everything about this book. Vanity Fare has an interesting story, great characters, wit, charm, and some great recipes in the back. The main plus for me was the main character Molly, I really related to her a lot. I am not divorced but I am in my 40s, love to read, have a six year old I adore, and love baked goods just like Molly. Caldwell does such a great job of showing Molly's faults and weaknesses but still making her someone you would love to have for a best friend.
Molly is going through a difficult divorce and is dealing with a lot of problems, the biggest one would be finding a job to support her and her oh so cute son Aiden. Lucky for Molly she has a few good friends to support and help her along the way and I enjoyed reading about all of her friends. Caldwell does a great job of bringing out the personalities of each character.
The love triangle in this was fun to read about and I fell in love with Nick right away and I found myself laughing out loud during her dates with Simon, the British pastry chef. I also found myself laughing quite a bit at the food- related literary puns that were included throughout the book, they are quite clever. The added bonus to all the foodies out there like me are some mouth watering descriptions of some yummy baked goods and a few very good recipes at the end. I would highly recommend this fun book.
My rating: 4 1/2 stars out of 5
About Megan Caldwell: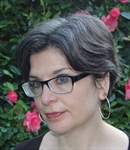 Megan Caldwell grew up in a remote town in New Hampshire where she devoured every book of fiction in her well-read parents' library. An English literature major at Barnard College with double minors in political science and religion, Megan wrote and edited reviews for a music industry magazine for fifteen years. Eventually, she became editor-in-chief and went on to develop conference programs for the industry. Now she is the community manager for Heroes and Heartbreakers, a romance novel website, where she blogs daily as Megan Frampton about the fiction she reads. She lives in Brooklyn with her husband and son.
The rest of the tour can be found
here
.